2 March 2020
Sir Geoffrey Clifton-Brown backs HS2 to get cars and freight off roads
Sir Geoffrey Clifton-Brown backs legislation for the Phase 2a (West Midlands to Crewe) section of HS2 as this will increase the capacity of our railways and free up the east coast and west coast main lines to get more cars and freight off our roads.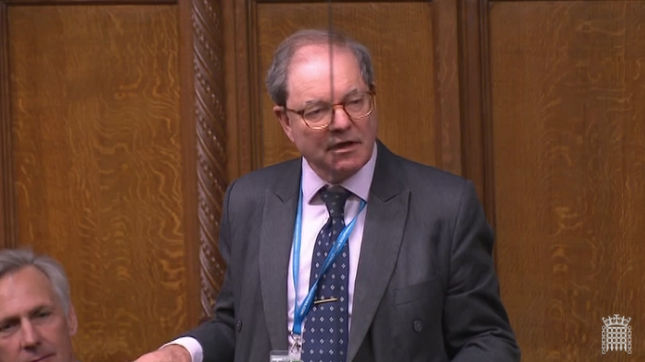 The most interesting speeches in this place are always given when one does not expect to make them. I am sure that what I am about to say will not find favour with a lot of my colleagues, but sometimes one has to stand up in this place for what is right. I spent over a year on the phase 1 hybrid Bill Committee. We delved into that railway in enormous detail. I am sure that my colleagues who served on the phase 2a Committee, which also took nearly a year, delved into that in huge detail as well. I commend the motion to the House. This resurrection motion is the correct thing to do.
I started my service on that Committee opposed to the railway on the grounds that it was high-speed rail. However, it is nothing to do with high-speed rail; it is all about capacity. Unless we take passengers and freight off the east coast and west coast main lines, our roads will clog up, journey times will become completely untenable and we will fail to meet our carbon targets ​in 2050. The revival motion is therefore right and we need to build this railway. We need to build not only phase 1, but phase 2 and phase 2b.
As deputy Chairman of the Public Accounts Committee, I want absolute value for money. I have already seen, in the phase 1 Committee, some of the horrors that took place. The evidence before us was, in many cases, disingenuous. The costs of the things we were doing were not fully costed. Nor was it fully understood how they could be delivered. I would be very concerned if the motion led to the same things on phase 2a.
Let me, with a little bit of latitude, give the Chamber some examples of what we found. The chief finance officer for HS2 Ltd asked permission in writing to pay enhanced redundancy payments. He was told not to, but he went ahead and did it anyway. That cost the taxpayer nearly £2 million. On Wednesday, the Public Accounts Committee will examine the costs. We will consider why £2 billion of savings—most of this is expected to come from phase 1 and phase 2a, which is what we are negotiating tonight—are probably undeliverable. Whatever the costs at the moment, they will be higher than whatever anybody says.
We need to build this railway. We need to increase capacity on our railways. We need to get cars and freight off our roads, otherwise they will clog up. That is why I support the motion.