10 September 2020
This Friday's Gloucestershire Jobs, Skills and Apprenticeship 'LiftOff' event will take place at Gloucester Rugby Kingsholm and online.  This is a difficult time for jobseekers and this event will showcase some of the great local opportunities available with businesses from across Gloucestershire attending, as well as useful sessions on how to improve your CV, interview skills, and much more.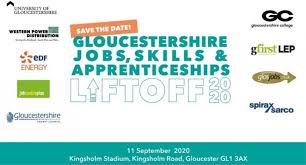 Employment Minister Mims Davies will launch the event, encouraging the county's employers to take on new 'kickstarters' - unlimited numbers of six month work placements that the government will fund 100% of the relevant National Minimum Wage for 25 hours a week, plus associated employer National Insurance contributions and employer minimum automatic enrolment contributions.
For jobseekers this is an amazing chance to talk to leading employers in sectors like cyber, steam technology, energy transmission and supermarkets, insurance, soft drink manufacturing, care homes, nuclear energy as well as the NHS, all the Armed Forces, Glos Constabulary, the County Council and all our County Universities and Colleges - starting with the 100 plus jobs offered by Gloucester Rugby itself.
Panels include:
- How big is the cyber opportunity in Gloucestershire? (chaired by Alex Chalk MP) with representatives from BAE and Raytheon.
- The Future of Aerospace in Gloucestershire (chaired by Richard Graham MP), with Airbus, Safran, GE Aviation & Darchem
- Upskilling opportunities in Gloucestershire (chaired by Siobhan Baillie MP) with SGS College, GlosCol, University of Gloucestershire and Cirencester College.
- Why an apprenticeship can be the best start in life (chaired by Business West's Ian Mean)
- What makes a great CV? (chaired by former Gloucester Citizen Editor Jenny Eastwood) with the National Careers Service, Gloucester Rugby and Poetons.
- How to win a job from an interview (chaired by Punchline publisher Mark Owen)
- How to start a business (hosted by the Growth Hub) and How to digitalise your business (chaired by Rod Horrocks, GFirstLEP)
For more information, including the programme, sponsors, and for any slots available still to join, please visit www.glosliftoff.co.uk
The Livestream can be viewed on Friday at www.glosliftoff.co.uk/livestream
The event is co-hosted by Richard Graham MP and Gloucester Rugby.