28 May 2020
COVID-19 Q&A at the Barn Theatre
The subject for Friday's session from the Barn Theatre is 'How will the voluntary and charitable sectors emerge from the Coronavirus lockdown'.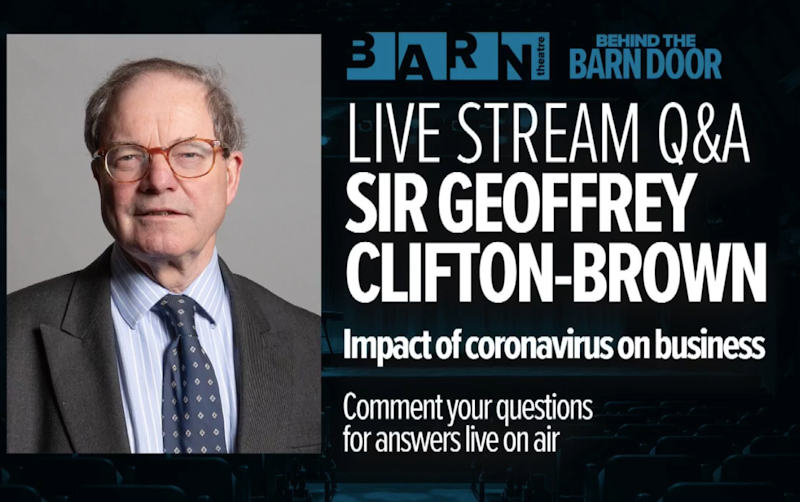 To discuss this topic we are delighted to welcome our panel of experts:
Amanda Howard - CEO of Cotswold Friends.
Canon Graham Morris - Vicar of Parish Church  Cirencester.
Jane Gunner - founding member and Hon Sec CHYP and Chairman of Bowly Alms Houses.
Karen Czapiewski Cirencester Coordinator for The Long Table.
Amanda Davis - a member of Cotswold Conservation Board, member of Bourton Parish Council and Coordinator of Bourton Street Volunteers.
This is your chance to watch a panel of experts address the issue of '' How the voluntary and charitable sectors are dealing with the shutdown?'
If you have questions related to the theme, please email us or ask your question during the live stream on The Barn Facebook page or other platforms such as the Cirencester Chamber of Commerce Face book page
I will open the session with a brief introduction and then hand over to the guest panel to hold the Question Time event which will be followed by questions from members of the public and two short videos featuring two exciting charities in the Cotswolds 
I welcome your input so please email your questions to either contact@cotswoldspeaks.co.uk or livestream on The Barn Facebook page: https://www.facebook.com/theBarnTheatreCirencester/.
The session will be filmed and live-streamed from the Barn Theatre where the production crew will be strictly adhering to government guidelines on social distancing and staying alert.
Where to watch:
The Barn Theatre Facebook page, the Cirencester Chamber of Commerce Facebook page, Sir Geoffrey Clifton Brown's Facebook page and the Fairford and Lechlade Business Club Facebook page.