8 May 2020
COVID-19 Q&A at the Barn Theatre
The subject for today's session from the Barn Theatre is Covid 19 versus Education. How will it be possible to let children back to school and students back to college, what effect has the virus had on educational establishments in the Cotswolds?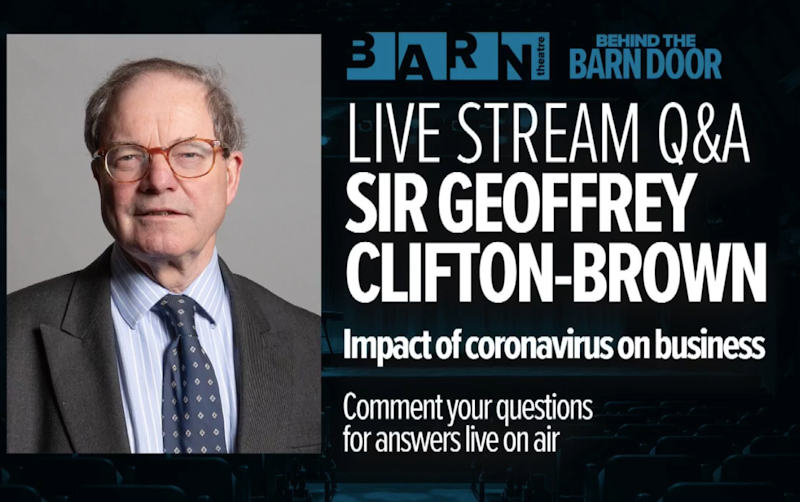 This is your chance to watch a panel of local education experts address the issue of the next stage of getting our education system back up and running.

We would love to hear from you as a teacher, a parent or a student. What are your thoughts? Do email us or ask your question during the live stream on The Barn Facebook page.

I will open the session with his update from Westminster. We then have a report from Chipping Campden and their dealings with the challenges the virus has brought.
Your questions will follow this report and finally we will hear from Cllr Nigel Moor in the north of the Cotswolds and from Cllr Richard Norris in the south.  

We welcome your input so please email your questions to either contact@cotswoldspeaks.co.uk or livestream on The Barn Facebook page: https://www.facebook.com/theBarnTheatreCirencester/.

The session will be filmed and live streamed from the Barn Theatre where  the production crew will be strictly adhering to government guidelines on social distancing.
 
Where to watch:
The Cotswold Conservatives Facebook Page
The Barn Theatre Facebook page 
or the Cirencester Chamber of Commerce Facebook page
Today is the celebration of the 75th Anniversary of VE Day when we will be commemorating the end of World War 2 in Europe. Due to Covid 19 we will be celebrating in our homes.
Please remember to stay at home, stay safe and protect the NHS and save lives