24 April 2020
COVID-19 Q&A at the Barn Theatre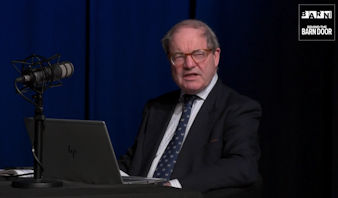 Thank you for watching this weeks virtual Q&A, the main focus of this session will be 'How do we ease the lockdown to slowly restart the economy, without causing a second spike in the virus'. I will give a brief update on the latest Government announcements and be answering as many questions as possible that have been submitted this week. Some of you may have seen yesterday an article on the front page of the Times with my views on this matter and during subsequent interviews on the Today programme, 5 Live and sky. I believe that if the Government want people to act responsibly, they need to be more transparent.
There have been a considerable number of constituents contacting me since my last Q&A on when the Government will ease the lockdown. The Government has provided a very generous package to support businesses small and large, providing a £330 billion in loans and guarantees and standing behind employers, helping to pay people's wages through the Coronavirus Job Retention Scheme. However, many businesses are struggling and need a clear step-by-step guide on how they can start operating again in the months to come.
We need to get the balance right, recognising the demographics of the Cotswolds that has a significant percentage of retired people as well as a large young workforce.  We must continue to work together to protect the NHS and save lives, while seriously considering the long-term impact for business and our economy.
 Based on scientific advice, the Government has determined that current measures must remain in place for at least the next 3 weeks. They have set out five specific things that the Government will need to be satisfied of before we will consider it safe to adjust any of the current measures.
First, we must protect the NHS's ability to cope. We must be confident that we are able to provide sufficient critical care and specialist treatment right across the UK.
Second, we need to see a sustained and consistent fall in the daily death rates from coronavirus so we are confident that we have moved beyond the peak.
Third, we need to have reliable data from SAGE (The Scientific Advisory Group for Emergencies) showing that the rate of infection is decreasing to manageable levels across the board.
Fourth, we need to be confident that the range of operational challenges, including testing capacity and PPE, are in hand, with supply able to meet future demand.
Fifth, and this is really crucial, we need to be confident that any adjustments to the current measures will not risk a second peak of infections that overwhelm the NHS.
The worst thing we could do now is ease up too soon and allow a second peak of the virus to hit the NHS and hit the British people. After all that we have been through since the lockdown began, to quickly go back to normal could have a devastating effect.
I am also aware that the longer such strict Government measures are in place, the more difficult it will be to expect people to follow. It would be a shame for the Government to have to relax measures further than they had planned simply because people stop listening to current guidance. 
People and businesses deserve to know what the lockdown ending will look like as soon as possible. Many businesses will need to understand and prepare to open under certain measures, ensuring the safety of staff and customers.
I have been contacted by many businesses, who despite the generous Government packages, will struggle to operate under these conditions much longer. They are willing to be flexible with how they operate, but need clear guidance from Government and to not feel like they are being left in the dark about their futures.
One industry that is under considerable threat and that many people have emailed me about this week is the ornamental horticultural sector. With the closure of garden centres having a devastating impact on an industry that operates predominately during the spring, with little capacity for online sales, and deals with perishable goods. I have been working closely with the NFU and other MPs to lobby the Defra secretary of state, George Eustice, on how this sector can be further supported and how garden centres can be re-opened following social distancing measures.
1,359 business properties in Cotswold District Council have already received grants as part of the Government's Small Business Grants Scheme. In total, more than £16,965,000 has made its way to small businesses in the area. The funding is provided to local authorities, who are then able to offer grants of up to £10,000 to small businesses, and up to £25,000 for eligible leisure, retail and hospitality businesses. In total, Cotswold District Council has been provided with £37,464,000, which could help as many as 2,909 businesses in the local area. The grants paid by CDC is largely in line with that of other local authorities, including Stroud which I also represent. I am aware that many businesses are waiting for money, but all applications are being robustly checked and valid application processed quickly. 
From today, all essential workers in England, and their households, will be able to get a test for coronavirus if they need it, giving our key workers the reassurance they need to know that they won't put others at risk by going to work.
Essential workers keep our vital public services functioning - with our increasing test capacity it's only right we offer them and their households the peace of mind they need to continue going to work.
 
Starting today, all essential workers and members of their households showing coronavirus symptoms will be able to book a test directly online. They will then be able to use one of more than 30 drive-through testing sites across the country or receive a home testing kit, receiving their results by text.
 
This will simplify the process, making it easier and faster for any essential worker in England who needs a test to get a test.
 
A new network of diagnostic laboratories – the biggest in Britain – has been completed in five weeks, enhancing our national testing capability which will be so vital in our battle against coronavirus. 
Every day across the country we are increasing our coronavirus testing capacity as we strive to meet our ambition of achieving 100,000 tests a day by the end of the month.
 
Three new mega-labs in Glasgow, Milton Keynes and Cheshire - which can be scaled up to test tens of thousands of samples - have now been added to that effort, having been announced just five weeks ago. This has been an extraordinary national effort, and we pay tribute to the expert staff and volunteers who have brought about this historic achievement. 
 
Working closely with industry partners and our world leading universities, we can meet our testing ambition together, meaning we can test more key frontline workers and ensure those that test negative for the virus can return safely to work.
Businesses will receive almost £10 billion in business rates relief this year, giving them a financial boost and the resources they need to weather this national emergency.
We recognise all the economic impact the current lockdown measures are having, which is why we have put in place an unprecedented package of support for businesses.
 
Businesses in the retail, leisure and hospitality sectors play a vital role in our communities, and we stand right behind them. In addition to the £6 billion in business grants already awarded, companies will benefit from almost £10 billion in rates relief this year – helping them with their cashflow during this difficult period.
 
The Government is continuing to work around the clock to get frontline NHS and care workers the equipment they need to do their jobs safely and save lives.
Global supply chains of PPE are under pressure – this is an international challenge that many other countries are experiencing.
 While there is huge demand for equipment at this time, the Government is buying millions more and working with British manufacturers and our international allies to secure months more of supplies – so that our incredible front line staff always have the equipment they need in their roles.
 Since this pandemic began we have delivered over a billion items of protective equipment for frontline workers, and we will continue to work around the clock to pursue every possible domestic and international option for PPE procurement.
The Government have boosted funding for victim support services to ensure the victims of crime have remote access to the support they need during the coronavirus pandemic.
This funding boost of £600,000 will give victim services and charities the support they need to support victims remotely by allowing helplines to stay open longer, employing more support workers to handle calls and helping to fund the technology needed for other forms of contact such as video calls and online chat services.