1 May 2020
COVID-19 Q&A at the Barn Theatre
Welcome everybody to my 7th virtual Q&A I hope you are finding these sessions informative. Listening to the changing national and local concerns during this period we have tried to adapt the format to address the latest issues, so this week we will be focusing on care homes.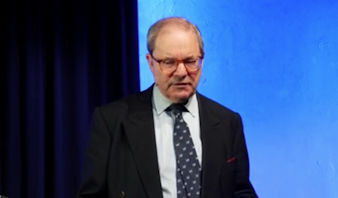 I am joined today by a panel of well- informed local experts, thank you to Dr Rohit Sethi from Phoenix Surgery, Dr Bala from AuraCare Stratton Court, Dr Ann Aylard Child and Adolescent Psychiatrist, Hilary Norris Evans Hypnotherapist & Mindfulness Coach, and Rob Fountain CEO of Age UK Gloucestershire for being here today.
Testing
The Prime Minister has confirmed that we are past the peak of Covid-19 and will within the next week set out the roadmap for us easing the lockdown.
He thanked those working so incredibly hard on the frontline and for those following guidance by staying at home, 'we can only defeat coronavirus by our collective discipline and working together'.
The Government has now made testing available to all symptomatic NHS and care workers, essential workers, and, most recently, to everyone aged over 65 or who must leave the house to go to work and who is displaying symptoms.
By the end of the month we will be carrying out 100,000 tests every day.
In Gloucestershire - essential workers are given the option of appointments at the centres in Bristol, Worcester or a home testing kit. The Local Resilience Forum are working with PHE (Public Health England) to see if an additional site can be opened in the county for these essential workers and other resident groups such as the over 65s.
Except for the care home staff all people who are eligible for testing still need to meet the criteria set by PHE and are symptomatic.
Personal protective equipment
Alongside British businesses and our embassies around the world, the Government has brought forward a plan to secure PPE.
Since the start of the outbreak, we've delivered over a billion items of PPE and we will continue to pursue every possible domestic and international option for PPE procurement.
In Gloucestershire – An appeal for businesses in to offer up their stocks of Personal Protective Equipment (PPE) has generated 105,900 extra items in just a few days.
Face-masks
The Scientific Advisory Group for Emergencies (SAGE) will outline the scientific advice and evidence to
Government – face- masks is an area where scientific advisers have asked for more data and evidence.
Currently, PHE guidance remains that the face-masks do not need to be used outside of health and care settings.
Care settings
The Government has put a range of measures in place to stop the spread in care homes, including testing all patients and staff who need it, delivering millions of pieces of PPE and publishing extensive guidance for care homes on admitting and caring for people during the outbreak.
Care workers deserve considerable recognition for the work they are doing, in very hard conditions right now. I will continue to work with care homes and the Local Authority to provide them with the PPE they need.
As of 27 April, GCC had been notified of 63 care home settings where there was one or more suspected or confirmed Covid-19 cases. With 60 deaths reported from suspected Covid-19 in the county.  My deepest sympathies are with the families of those who have died.
Supporting the economy
The furlough scheme has been extended to the 19 March, meaning thousands more workers can be furloughed rather than let go.
This change makes the scheme more generous while keeping the substantial fraud risks under control and is expected to benefit over 200,000 employees.
This week the Government announced that it has provided an additional £1.6 billion to local authorities so they have the resources they need to respond to the coronavirus pandemic.
This is in addition to the £1.6 billion already announced in March. Cotswolds District Council has been allocated a total of £941,887 and Stroud District Council, an area I also cover, will receive £1,192,385 to continue providing essential services and support to those who need it the most.
Councillors from both districts have expressed how generous they thought this funding was and far more than expected.  
I am pleased that £27.5m has already been paid out by CDC to support local business during this period. Totalling 2,200 businesses and meaning 77% of those businesses that are eligible have been reimbursed.
I would like to thank all of those at the council who have worked so hard to successfully process and deliver these grants, and I will continue to help those businesses still waiting for their payments.
CDC has also been paying out hardship funds for council tax payments – helping a total of 448 households, 343 of these are in the private rented sector.
I have been lobbying on behalf of a number of limited company directors who have not been covered by the Government grants. As well as a couple of businesses that cannot qualify for loans and whose insurance companies won't pay out. I unfortunately have not received any answers from the Chancellor, but I will continue to raise these matters on behalf of those who have contacted me.
I have for the past couple of weeks been working very hard to support dairy farmers who are facing deferred payments of up to six weeks leaving a cash-flow gap and knockdown prices which are hammering their incomes. I have been lobbying Ministers on this issue and taking part in weekly calls with DEFRA and the NFU to resolve the issue.
Green Waste
I have spoken to the Branch Director of Ubico. Green waste collection will resume in Tewksbury next week meaning that Cotswolds will be the only local authority that has not resumed in Gloucestershire.
There are plenty of commercial waste vehicles available to purchase, but it requires management and resources from CDC. The public are very cross about this issue and I have been contacted by a high number of residents who are demanding a return of the service.